Quite frankly, very few things beat a really good night's rest. Our furry loved ones appreciate it as much as we do. Create the ultimate sleep oasis for your pet with our ultimutt comfort beds. Comfortable, ultra soft and most importantly, it's little pawtners approved!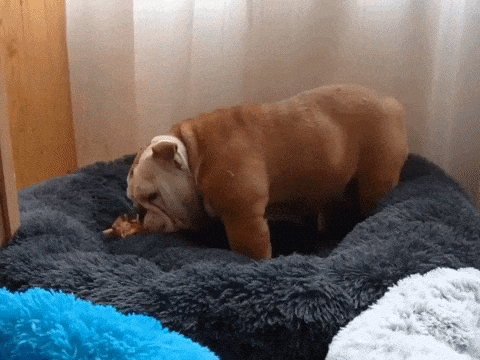 🐾 Your pet is warmly embraced in a cloud of fluffiness that provides a sense of security which can help in calming anxious and frightened pets🐾
🐾 Ultra soft plush that creates a warm and comforting night's sleep which  makes the ultimutt comfort bed unbeatable🐾
🐾 Ultimutt comfort beds are suitable for all little pawtners, and provide a safe and cozy place to retreat when your pet needs it🐾
🐾 Easy to clean and made of waterproof oxford cloth 🐾
🐾 Pets can burrow, curl up and delve into the soft faux fur to maximize comfort, sense of security and enhance sleep🐾
🐾 Raised rim allows your pet to prop up head to provide better neck and spine support🐾
🐾  Comfort beds can help pets with separation anxiety with the warm and embracing features it offers, similar to when a pet cuddles up next to another pet for security🐾
Specifications:
Washable: Hand wash primarily recommended to preserve quality. Machine wash recommended on gentle cycle and tumble dry low or air dry.  
Material: 100% Cotton
Sizes: 
XS: Diameter: 40cm/15.8" (Suitable for <2.5kg pets/ 5.5lbs) 
S: Diameter: 50cm/19.7" (Suitable for <5kg pets/ 11lbs) 
M: Diameter: 60cm/23.6" (Suitable for <10kg pets/ 22lbs) 
L: Diameter: 70cm/27.6" (Suitable for <17kg pets/ 37lbs) 
XL: Diameter: 80cm/31.5" (Suitable for <25kg pets/ 55lbs)
XXL: Diameter 100cm/39.3" (Suitable for <30kg pets/ 66lbs)
Package includes: 1 x ultimutt comfort bed
*Satisfaction amongst our pawtners is always our main priority. If for any reason you are not 100% satisfied with your order,

 

we will do whatever it takes to make it right. We offer 24/7 online support and superb customer service. We know buying online can be a daunting task so we always want to make sure all our pawtners, big and small, have a positive and unique shopping experience!