Some of our furry pawtners may get a bit excited when going out for walks, and regular collars can cause strain on their necks or even cause injury. A safe, sturdy and comfortable harness is just the solution. Customization of our pet harnesses is just an extra bonus!
Our pet harnesses include various features that make it a favorite among our pawtners!
Harnesses are ideal for pets that tend to get over excited during walks. Trying to refrain a pet wearing only a collar can create a choking hazard and injury. Harnesses provide better control and less distress on your pet during walks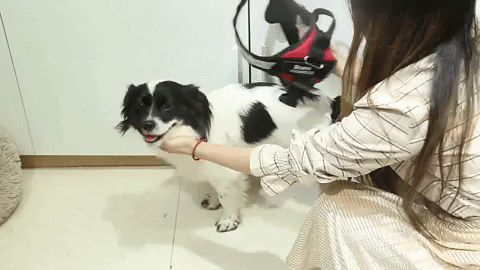 Keep your pet safe no matter what time of the day it is. Reflective element adds more safety when taking walks at night!
Instructions to Order:
Use sizing chart to pick size best suited for your pet. 
Choose style and size from drop down menu.
Fill in your pet's name and contact phone number, separated by an asterisk (*). Example: Fluffy*555-234-1122.
Two styles of patches offered, with and without phone number. If you wish to omit phone number, simply fill in only your pet's name when placing order
Please refer to sizing guide to ensure compatibility with your pet
Specifications:
Material: Nylon
Compatible breeds: Small (dogs and cats), medium and large dogs
Package includes: 1 x custom harness
Specifications: 
Material: Nylon
Feature: engraved, customized, adjustable
color: orange/blue/green/pink
Applicable breeds: small, medium, large dogs & cats
Package includes: 1 x custom engraved bow collar

What is the return policy on custom harnesses? Due to custom design on harness, we cannot offer returns. However, if you receive a damaged or defective item or if pet information is incorrect, we would be more than happy to provide you with a replacement harness. Contact our superb customer service support team if you have any issues with your order at customersupport@littlepawtners.com so we can provide you with an appropriate solution. 

Do you offer exchanges?

 Similar to returns we cannot offer exchanges due to the nature of the product. However, if for any reason your order is inaccurate such as wrong color or size from your original order, we will definitely provide a replacement. Please refer to our full return policy for further instructions. 
How long does shipping take? We strive to process every order within 24 hours and have orders shipped out within 1-3 days and at your doorstep within 7-21 business days. Shipping times can vary due to covid 19 protocols. We offer free tracking so you can keep tabs on your order at all times. For more information on shipping, please refer to our full shipping policy. 
*Satisfaction amongst our pawtners is always our main priority. If for any reason you are not 100% satisfied with your order,

 

we will do whatever it takes to make it right. We offer 24/7 online support and superb customer service. We know buying online can be a daunting task so we always want to make sure all our pawtners, big and small, have a positive and unique shopping experience!