Let's not forget about having our pets drink from potentially contaminated water sources during walks, runs, hikes or any other outdoor activities. Clean drinking water is essential for good health! So, if you wouldn't drink from it, would you allow your pet? That's why our portable water bottles are exactly what our little pawtners need to ensure they are receiving refreshing and, most importantly, CLEAN water during outdoor activities.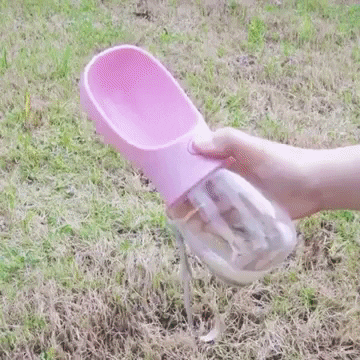 🐾 Key features prevent leakage. Easy use and easy dismantling for cleaning
 Locking feature to provide extra security from leakage, making it safe to throw in bags

Eliminates the hassle of trying to find a clean water source. Wide water trough makes hydrating a breeze. Easy to use for different size pets.
High quality, eco-friendly and BPA free. Helps conserve water and save plastic by reducing use of plastic water bottles for hydration.
Strap included for easier portability

Specifications:Material:
ABS, eco-friendly
Size: 350ml
/approx.11.8 fl oz 208x75mm/approx. 8x3in         
550ml
/ approx 18.5 fl oz 260x75mm/approx. 10x3in
Package includes:
1 X Portable Hydrator with wrist strap
*If for any reason you are not 100% satisfied with your order,

 

we will do whatever it takes to make it right. We offer a 30-day, risk free return policy with 24/7 online support and superb customer service. We know buying online can be a daunting task so we love to ensure that all our pawtners, big and small, have a positive and unique shopping experience!